Albert Mudrian - Precious Metal: Decibel Presents the Stories Behind 25 Extreme Metal Masterpieces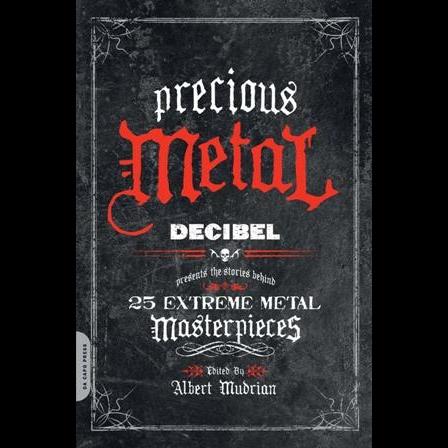 | | |
| --- | --- |
| Категория: | Литература |
| Год: | 2009 |
| Стиль: | Другой (Other) |
| Страна: | США |
| Размер: | 3.47 MB |
| Раздал: | TonyMcDougles |
| Оценка: | Albert Mudrian - Precious Metal: Decibel Presents the Stories Behind 25 Extreme Metal Masterpieces |

| | |
| --- | --- |
| Добавлено: | 28/06/2015 15:02:29 |
| Файлов: | 1 |
| Скачан: | 643 (Взят - 615) 3 0 |
| Сид был: | 05/12/2020 17:02:07 |
| Модерация: | Проверен пользователем dimanlev |
Описание:
Language/ Язык: english
Number of pages / Количество страниц:  384
Format / Формат: pdf

Description / Описание:
Decibel magazine is regarded as the best extreme music magazine around.

Precious Metal gathers pieces from Decibel's most popular feature, the monthly "Hall of Fame" which documents the making of landmark metal albums via candid, hilarious, and fascinating interviews with every participating band member.

More / Less

 

Поблагодарили:
Комментарии
Войдите на сайт, чтобы добавить комментарий.